One of the most organized and oldest resorts of the island is Dassia at a distance of about 12 kilometers from the city  of Corfu. This touristy settlement extends above the homonymous beach  with shallow waters and provides a great variety of touristy lodgings: large hotels, rentable rooms and camping sites, options that attract every kind of tourist.
Amalia Hotel is located in the heart of Corfu in Dassia Village , few meters from the beach.
In the center of Dassia, on the road, you will find a variety of commercial shops where, you can go shopping. In its taverns you will taste the delicious, Corfiot cuisine, while you can find many other options concerning food: taverns, restaurants with international cuisine and snack bars. Dassia is also famous for its nightlife with many small bars by the sea or inside the settlement. Dassia is a very popular destination among the young because it has very regular transportation with the city of Corfu, with buses  running every half hour from morning until night. Dassia is situated between two also touristy villages of the north-eastern coast of Corfu, which are, Gouvia  in the south and Ypsos  in the north.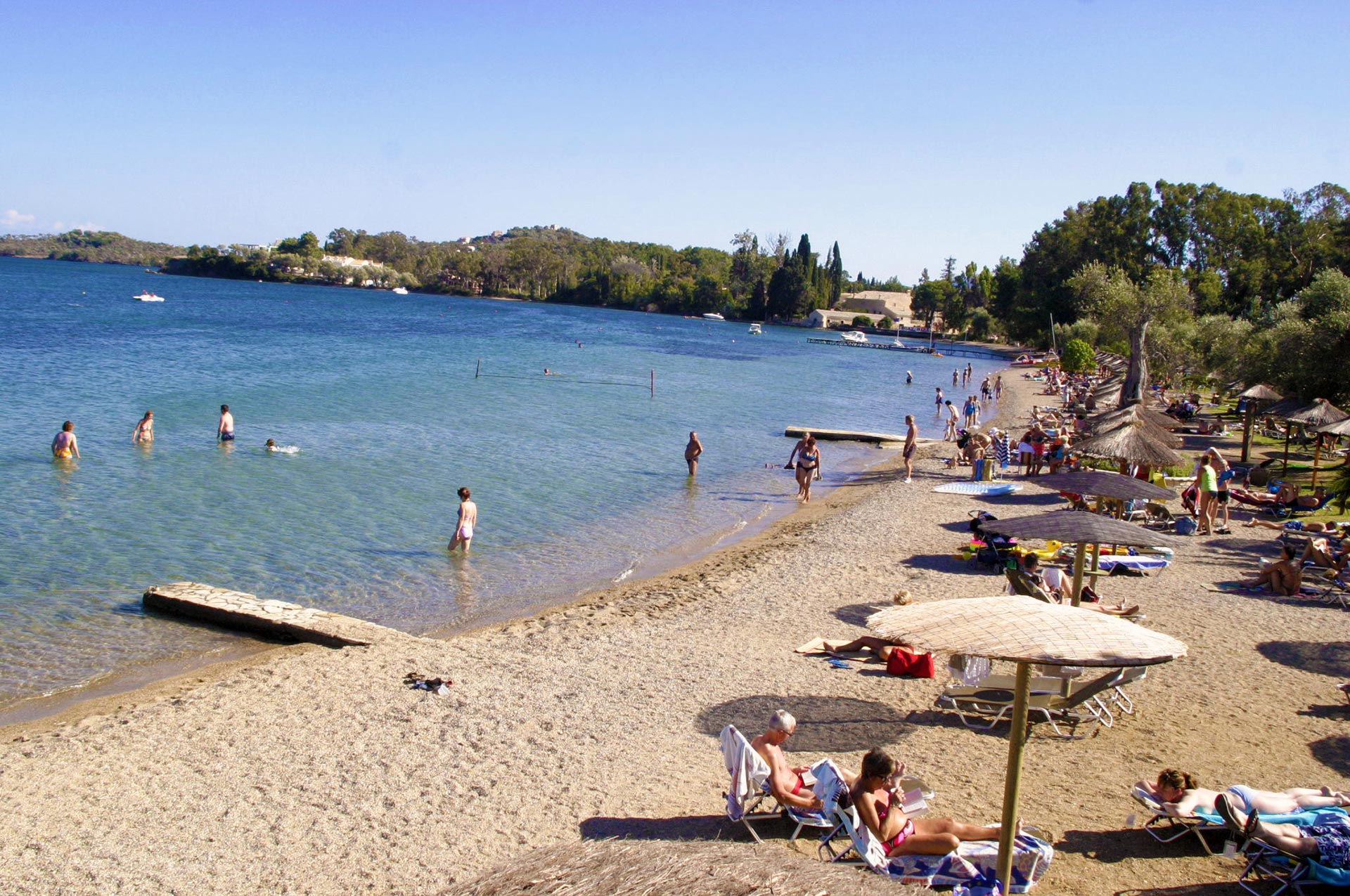 Dassia beach
Dassia beach is one of the most developed beaches of the island, concerning the tourism industry. It is located in front of the homonymous village  at a distance of 13 kilometers from the city  of Corfu. It is a relatively narrow beach with gravel and fine sand, very hot waters and it is protected from the winds. In the sea, a platform has been built from where you can dive and which is the base for many sea sports available on this beach.
Dassia beach is an organized beach from one end to the other, with parasols, deck-chairs, showers and vestiaries. On the beach you will find luxurious hotels, rooms to let, beach bars and taverns.
In Dassia beach you will see many foreign tourists, mainly French and English, but also many locals, either families with small children or young people who prefer it because it is easily accessible from the city of Corfu. Urban buses  run regular schedules on a daily basis until late in the evening.